Skulls-derived Coreboot for Liberated Computers
The original README follows....
Skulls - not quite Heads
pre-built coreboot images with an easy installation process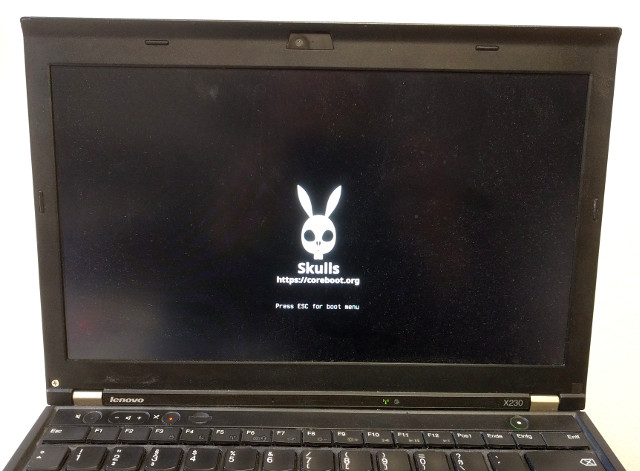 Skulls makes it easy to install an unlocked, up-to-date and easy to use coreboot-based BIOS on your laptop.
unlocked: software update after first-time flashing / no restrictions for connected hardware
easy to use: SeaBIOS - simply a boot menu, compatible with Windows and Linux
up to date: Frequently a new image with the latest versions of all components
Supported Laptops
When do we do a release?
Either when
There is a new SeaBIOS release,
There is a new Intel microcode release (for our CPU model),
There is new coreboot development that affects us, or
We change the config
How we build
Alternatives
We aim to be the easiest possible coreboot distribution - both to install and to use. And since our flash image is unlocked to enable software updates, it's easy to move to alternative systems from it:
Heads - a coreboot distribution with pre-built (or reproducibly buildable) flash images (for the X230 and others). Heads includes Linux, with tools to create a trusted boot chain using your GPG key and the TPM.
libreboot - a coreboot distribution with pre-built image releases. The X230 is currently not supported (the X200 is) - libreboot images are built from free software only and include the GRUB bootloader.
none. become a sponsor and you can be listed here. any compensation is very much appreciated.